Eligible entries must include your name, email address and mailing address. There is no limit to the number of entries a single person submits, but each caption must be in its own email, submitted to the email address below. Winning caption becomes the property of The TwinS puBlications for the sole use in greeting cards made with this photo and caption; payment in full for use of your caption will be the 7 cards and mailing envelopes. In the event of two identical captions are submitted and chosen as the winning entry, the first email received with that entry will be the winner.
The winning caption and winner's name will be posted on this site no later than 15 March, 2007, as well as emailed to each entrant, and cards will be posted to the winner by that same date. Example: "Okay, you go to the sixth floor of the Book Repository, I'll hang at the Grassy Knoll, and you make sure you're assigned as a motorcycle cop."
Click here to enter your caption entry. Include your caption, name, email address, and mailing address. Please, only one entry per email.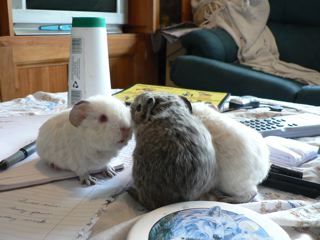 If you wish to make a purchase, or have any questions, you can contact Susan and Bill by clicking here. We accept money orders and Paypal, as well as bank transfers.
All contents ©TheTwinSpuBlications unless otherwise indicated.