We have been creating scrapbooks for ourselves and on commission for several years.

We have extensive experience in creating pages and material by hand and with the aid of computers utilizing all types of media.
Scrapbooks are a beautiful and timeless keepsake of remembering family members, special events, pets... the possibilities and themes are endless. We will even make you a personalized book for your pages, if you so desire.

Need more than one copy of a scrapbook? No worries! Susan&Bill (aka 'The Twins') have been making scrapbook 'twins' for several years now, and we do offer discounts on 'twins, triplets, quads', etc.

You simply provide the photos on CD- or DVD- rom, digital prints, or as actual photos, slides, or negatives, that you wish used in your scrapbook, let us know the theme(s) you wish, and approximately how many pages you would like us to create as part of your scrapbook. All photographic materials are returned to you at the conclusion of the project; we can even convert your photos, negatives, and slides to digital media at the same time too, if you wish.

If you wish 'stories' transcribed into your book, you can provide us with text or audio tape of your stories, or we can arrange to interview you either by phone, the internet, or in person if you are local to the Blue Mountains in Australia or Ketchikan Alaska.

Prices start at US$3.50/AU$4.00 per page.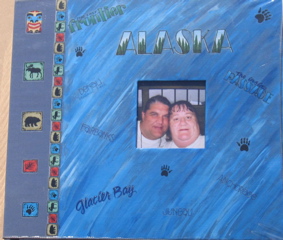 Custom Scrapbook